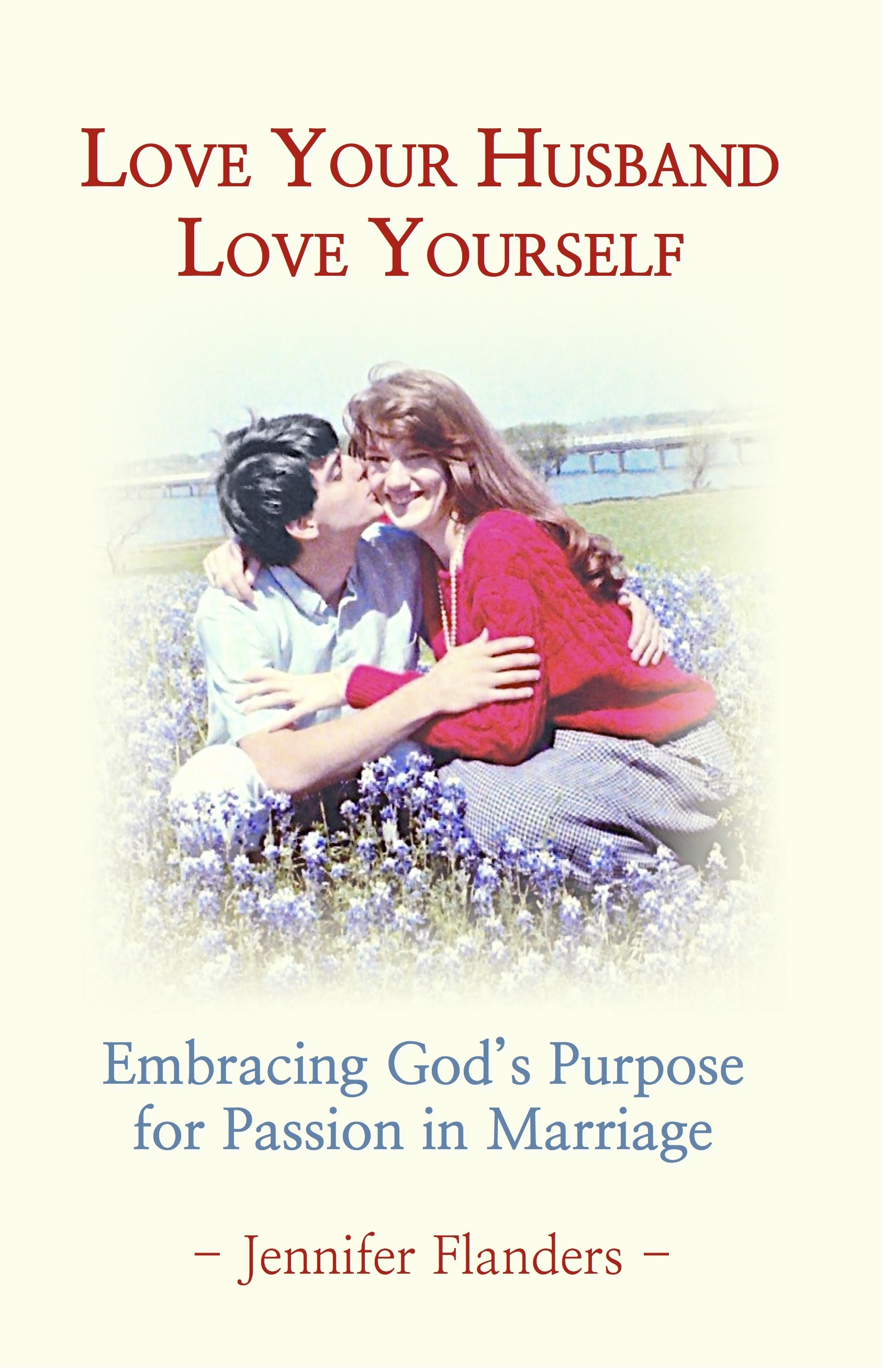 Embracing God's Purpose for Passion in Marriage
Would you like to take ten years off your appearance, reduce your risk of heart disease, and simultaneously divorce-proof your marriage? Are you plagued by stress-filled days and sleepless nights? Do you long for a deeper, more satisfying relationship to your spouse? Then this is the book for you. It outlines a simple but Scriptural strategy for blessing your husband that, when faithfully applied, will secure blessings beyond measure for yourself, as well. Isn't it time you embraced God's purpose for passion in marriage? Isn't it time you began to unconditionally love your husband… and love yourself?
Read the foreword to this book. View the table of contents.
Read author's interview with THE NORTHEAST TEXAN.
ORDER YOUR COPY TODAY…………………………………….
Also available through the following fine book sellers
(including $4.99 eBook versions for Kindle and Nook):






Here's what readers are saying about Love Your Husband…

"Dear Jennifer, Thank You!! Thank you for your honesty, transparency, humor, encouragement and wisdom. This is a message openly opposed by our culture and sadly sidestepped by the Church… The institution of marriage in America is in crisis and Christians are fairing no better than the rest of the world. God has not overlooked that marriage is hard work, He hasn't failed to notice that children and households require lots of tending. He didn't create sex to extend a wife's "to do" list but to protect and prepare couples so that they will stand firm in spite of life's trials and responsibilities. Sadly, some of our friends' marriages have not prevailed. Not one of those couples would say today, "Well, our physical intimacy was great…it was just everything else." In every case, physical intimacy was one of their biggest (if not primary) issues. It cannot be ignored or reasoned away. In our culture and even in the church, so much emphasis is placed on the romance of courtship and marriage. We spend countless hours and dollars preparing for weddings and completely skip preparing our children for marriages! I barely got the message that physical intimacy was part of being a wife…..no one EVER made me feel like it was my PRIVILEGE! Until now. Thank You!"
Amber C. on Amazon.com

"Jennifer, I've got to say that I LOVE, LOVE, LOVE your book…. Thanks for all of your input into the science and benefits of a good marriage and how to keep it that way!!!"
Torri in Tyler, TX

"This book may be geared to wives in their 20′s or 30′s, but in my "elder years", it has been a blessing and a great review of what makes marriage work. The truth is the truth. Some will not be able to accept it, but Mrs. Flanders speaks only the truth from the biblical standpoint. As an older reader, my husband and I have had alot of fun conversation that we haven't had in a long time, and it has sparked new respect for ourselves as a couple. You are never too old to learn. Don't miss this one !!!!"
"Blessed Marriage" on Amazon.com

"This book is hands down the best all around and newly wed marriage advice on how to he happy and married, of any I have ever read and that was very many books! Jennifer does very well at pointing out the intricate design of a very wise creator. This is a must read for all marriages that want true happiness. True happiness is found in giving joy and grace to your very best friend. Not always easy, not always an inner urge, but always a blessing!"
Lewis in Kinzers, PA

"I ordered two of your books from Amazon on Monday, picked them up from the post office yesterday morning and have already finished the first section! I couldn't wait to start reading it! Thanks for your courage to share this topic and your family with us. I will order several more…. I want to give them to several young ladies getting married."
Valorie in Mesquite, TX

"I have started reading your book. I love it. I feel like, I was blind, but now I see and I wish I'd have seen it years ago…. Thank you, thank you, thank you so much for this book. I'm reading, praying, crying and trying not to stress [my husband] out or myself for that matter."
Debbie in Collierville, TN

" I highly recommend it for all new brides, new mothers, and wanna be brides again!"
Brenda in Tyler, Texas

"I was privileged to get a copy 'hot off the presses' and am already thoroughly enjoying poring over each chapter. I want to be one of the first to give Jennifer's book a plug: YOU LADIES NEED TO GET A COPY AND READ IT. YOUR HUSBAND WILL THANK YOU (in more ways than one!) AND YOU WILL EXPERIENCE SWEET JOYS IN YOUR MARRIAGE. Thanks for your boldness, Jennifer, to say what needed to be said."
Kelly in Canton, Texas